Jahresbericht 2018 der Universitätsbibliotheken der TU Berlin und UdK Berlin
publisher: Andrea Zeyns, Jürgen Christof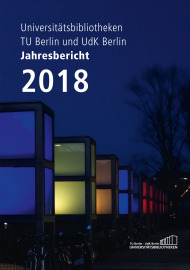 Size:
120
pages
Format:
14,8 x 21,0 cm
Publishing year:
2019
ISBN 978-3-7983-3102-0
In their fourth joint Annual Report, the University Libraries of the Technische Universität Berlin (TU Berlin) and the Library of the Universität der Künste Berlin (UdK Berlin) focus on two joint topics: the project "Leit- und Orientierungssystem" (Guidance and Orientation System) and the work of the subject librarians. The latter are presented individually. They provide insights into their everyday work and on the subject areas they are responsible for. The contributions of the UdK Library include retrospectives on the history of provenance on the one hand and on an eventful, almost 40-year service period on the other. Among other things, a fund for Open Access books has been established at the TU library in 2018, the DSpace Consortium Germany was founded and the staff room has been redesigned. Furthermore, four successful third-party funded projects of the TU Library are presented.
An illustrated calendar lists important events of the year 2018. The Annual Report 2018 is rounded off by overviews of selected key figures, brief information on the subject librarians and a list of publications by library staff.