Jahresbericht 2015 der Universitätsbibliotheken der TU Berlin und UdK Berlin
Editor: Andrea Zeyns, Jürgen Christof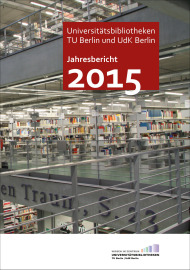 Size:
86
pages
Format:
14,8 x 21,0 cm
Publishing year:
2016
ISBN 978-3-7983-2842-6
Beginning in 2015, two organisations will now present a joint annual report: the library of the Technical University and the library of the University of the Arts. Since 2004 both libraries work together under the same roof and join forces to improve procedures and activities.
The joint annual report gives insight into outstanding events of the year 2015. Selected key figures are presented as well as topics and professional debates that preoccupy the librarians' minds. This includes, among other things, Open Access, the UdK library website relaunch, the anniversary of the German Horticultural Library, and the upcoming changes in the libraries due to the launch of Alma and the transition to RDA.