Jahresbericht 2017 der Universitätsbibliotheken der TU Berlin und UdK Berlin
Editor: Andrea Zeyns, Jürgen Christof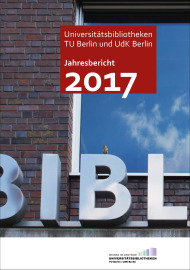 Size:
105
pages
Format:
14,8 x 21,0 cm
Publishing year:
2018
ISBN 978-3-7983-3005-4
For their 2017 Annual Report, the University Libraries of the Technische Universitaet and the Library of the Universitaet der Kuenste have focused on different 'satellites' of both institutions as a common topic. The report presents departmental and specialist libraries of the Technische Universitaet Berlin as well as small branch libraries of the Universitaet der Kuenste Berlin like the branch for instruments and orchestral material. From the perspective of the Zentralbibliothek as main building of the two university libraries, these twelve libraries or collections are more or less peripheral institutions. However, for their immediate users they are located very centrally close to their own study and research environment.
The Annual Report also features contributions on the following projects and topics: Digitisation of the TU 1968 pamphlet collection; measures for the preservation of the UdK library's holdings, accidental discovery of historical items through requests for exhibition loans; the TU's long road towards an Open Access Policy as well as experiences from one year funding by the DFG publication fund.