Jahresbericht 2014 der Universitätsbibliothek der TU Berlin
Editor: Jürgen Christof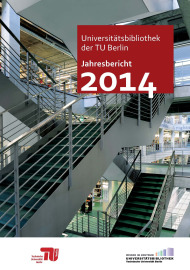 Size:
66
pages
Format:
14,8 x 21,0 cm
Publishing year:
2015
ISBN 978-3-7983-2759-7
"Giving an insight": this is the motto of TU Berlin University Library's 2014 Jahresbericht (Annual Report). This means: insight into last year's events and into the library system' s development based on selected key data but also insight into the topics and professional debates the TU librarians are engaged in.
The 2014 Jahresbericht continues the previous Rechenschaftsberichte 1997 to 2007 and 2008 to 2012, it includes the year 2013.