Design Draw
Labyrinthe, Darstellung und Gestaltung
Editor: Ignacio Borrego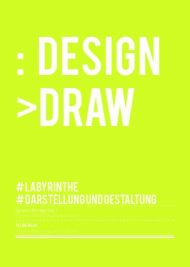 Size:
109
pages
Format:
14,8 x 21,0 cm
Publishing year:
2019
ISBN 978-3-7983-3080-1
A labyrinth is an elaborate structure with an intricate combination of paths or passages in which it is difficult to find one's way or to reach the exit. This spatial concept has led to many metaphorical interpretations, and that meaning has given a special character to the typology of labyrinths throughout history.
During the documented seminar 'Representation and Design' the students explored the possibilities of Labyrinths as a spatial system that can provide any kind of experience to a hypothetical visitor that tries to get in, or get out of it. In teams of two the students had to design a segment of a whole collaborative Labyrinth. During the fall semester the segment was developed and represented through two- and three-dimensional hand drawings and handmade sketch and presentation models. In the following summer semester the students further developed their segments in a digital 3D-model, laser model and renderings.