Developing E-commerce logistics in cross-border relation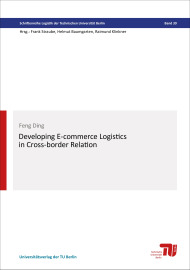 Size:
201
pages
Format:
14,8 x 21,0 cm
Publishing year:
2018
ISBN 978-3-7983-2972-0
Through a structured literature review and an exploratory factor analysis, this thesis presents a conceptual framework with 6 key factors composed of 19 indicators, including government, consumer, company, product, operation and partnership, which affecting the development of e-logistics in cross-border relation. Then, a comprehensive competitive strategy is generated based on the framework, including government policy, logistics strategy selection, differentiated product, dual-channel inventory and transport. Finally, Walmart and JD.com in China market are chosen as case study, the development of their cross-border e-logistics strategy verify the rationality and applicability of the framework found in this thesis.