Zukunftstrends in der Lebensmittellogistik – Herausforderungen und Lösungsimpulse
Editor: Frank Straube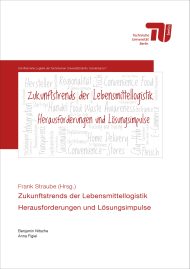 Size:
69
pages
Format:
21,0 x 29,7 cm
Publishing year:
2016
ISBN 978-3-7983-2832-7
Volatile customer demand, increasing delivery frequencies, a growing range of products as well as scarce logistics and sales areas in urban areas challenges food logistics for years. In the course of digitalization and changing customer needs, logistics faces an increasing number of challenges that have not been solved so far. In addition, new business models and market players arise rapidly that are competing with well-established players.
The study aims at identifying future trends in food logistics and developing strategies to cope with them. With the help of an online questionnaire with 100 participants and interviews with 15 practitioners, current customer trends and their impact on food logistics have been evaluated (e.g. e-commerce, seasonal and regional food, food waste awareness). On this basis the authors derive recommendations for actions addressing logistics of food producers, retailers and logistics service providers. Finally an outlook to food logistics solutions for cities of the future is given.