Verbreitung und Verwendung von Lichtmasterplänen in Großstädten im deutschsprachigen Raum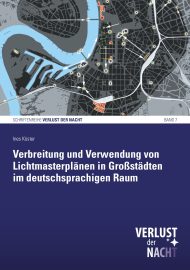 Size:
94
pages
Format:
14,8 x 21,0 cm
Publishing year:
2017
ISBN 978-3-7983-2889-1
Public lighting systems are no longer merely an essential element of road safety. Modernisation, image enhancement, a desire to engender an attractive nocturnal atmosphere and increased ecological awareness, place strong demands on cities to form coherent, well considered plans for their public lighting. This contribution deals with the question of how many and which of the sixteen cities with more than 500,000 inhabitants in Germany, Austria and Switzerland have lighting master plans and how these are created and used. Lighting master plans are overaching concepts for public lighting and an informal planning instrument. Thirteen of the sixteen surveyed cities have such a plan, and these are shaped rather differently. The plans which take the entire metropolitan area into consideration were fully examined and compared in great detail. These lighting master plans have been created in a complex process with the help of numerous external professionals. Regarding the content in the categories of design/ atmosphere/ image, cost/ energy efficiency, safety and environmental protection/ light pollution, many similarities can be found. However, the cities set different priorities, both in content and in structure. The master plans are internally binding for the administrations.