A methodology for planning sustainable supply chain initiatives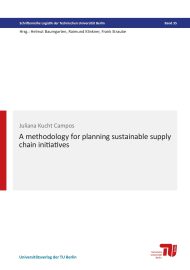 Size:
344
pages
Format:
14,8 x 21,0 cm
Publishing year:
2016
ISBN 978-3-7983-2860-0
This publication presents a methodology for planning sustainable supply chain initiatives, consisting of three scopes, each with its appropriate mechanism and background theory. The first one "Acting In" structures organizational practices in a "Framework for Managing Sustainable Supply Chain Practices". The second scope "Acting Out" compares practices from 32 recognized sustainability leaders from five different industries through a "Benchmarks Practices Bank". The third scope "Acting Beyond" supports defining and managing a portfolio of sustainable supply chain practices through a "Practices Portfolio Planning Matrix" which provides a list of opportunities for the exchange of knowledge between Germany and Brazil. The methodology significantly supports supply chain decision makers in planning initiatives and visualizing collaboration opportunities within a firm, industry and shared value chain perfective. As companies become more global, challenges also become greater, thus, a more systematic and holistic approach can lead the way for developing more innovative solutions.