Dorf macht Oper
publisher: Donatella Fioretti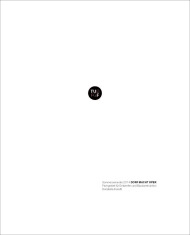 Size:
91
pages
Publishing year:
2015
ISBN 978-3-7983-2778-8
In the summer semester 2014, the department for design and construction, TU Berlin, Prof. Donatella Fioretti planned and erected 1:1 design projects in collaboration with the cultural project "Village Meets Opera" of the association FestLand e.V.
For the production of an opera the association developed the idea of an opera park, which would contain certain architectural structures to serve the musical performance and the overall event.
Within a timeframe of six weeks, sixty-four students in the first year of their studies planned and built a kid´s workroom, a One-Book-Library, a pavilion for watergames, a ticket box, a grillpalace and a sound studio.