Strategic Information Systems Management for Environmental Sustainability
Enhancing Firm Competitiveness with Green IS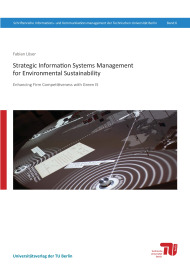 Size:
280
pages
Format:
14,8 x 21,0 cm
Publishing year:
2015
ISBN 978-3-7983-2769-6
Manufacturing, operation, and disposal of Information Technology (IT) cause serious environmental impacts whereas Green Information Systems (IS) shape the path towards a sustainable economy: Environmental Management Systems and the Reengineering of Business Processes can substantially reduce resource consumption and emissions of business organizations. In addition, technological innovations provide opportunities to decrease the ecological footprint of end-user products and services.
Although Green IS practices feature a considerable potential to increase corporate environmentalism and to create promising business opportunities, the adoption of enterprise-wide, cross-functional initiatives has been slow. Economic uncertainties and the lack of appropriate management frameworks are the main inhibitors of Green IS adoption.
This thesis establishes key concepts for the evolving Green IS research discipline, develops practice-oriented management frameworks, and emphasizes the importance of a strategic approach to leverage the competitive potential of Green IS. This dissertation offers both empirical insights and conceptual models to advance the adoption of Green IS initiatives, thus meeting the challenges of climate change and turning corporate sustainability into a business opportunity.