Integrated Framework for Managing Sustainable Supply Chain Practices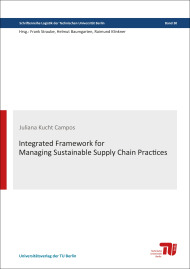 Size:
133
pages
Format:
14,8 x 21,0 cm
Publishing year:
2015
ISBN 978-3-7983-2783-2
The pressure on companies towards sustainable development is chang-ing the way they are dealing with their supply chain network. Practices are not limited to the company level. They are involving suppliers, customers, government, society and other stakeholders that impact and are impacted by the actions to improve economic results com-bined with environmental and social responsibility. This book presents a framework which can be used in practice and research for managing practices, possible to be implemented in different industries worldwide, and which intends to add value to the customers. It is composed by three clusters, seven groups and 21 sub-groups of practices and was built with data colleted from a systematic literature review with more than 2000 documents analyzed and refined with workshops and interviews with academics and practitioners. The framework offers a holistic view of practices for improving supply chain sustainability and the integration between them. It has proven to be a valuable instruments for supporting decision planning.