Other spaces, plural narratives of place in Berlin's SO 36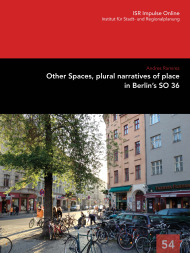 Publishing year: 2015
ISBN 978-3-7983-2714-6
The heightened environmental awareness that defines our contemporary urban age is both a challenge and an opportunity for urban planners and designers. In order to acquire perspective, context and leverage, city-makers must access the intangible realms of meaning to investigate the nature of social life and its relationship to space.
In response to provocative spatial discourse from Lefebvre, Foucault and the Situationists International, Other Spaces, plural narratives of place in Berlin's SO36, explores the application of theory in today's broad and increasingly interdisciplinary planning and design practice. Deeply rooted in the philosophy of space, the concept of otherness is presented as a distinctive critical element and promising tool for contemporary urban analysis.
As a source of spatial knowledge, otherness raises issues of relativity and reveals the layered, multi-dimensional reality of the urban environment. Both physical and symbolic, it complements conventional research methodologies with a qualitative, creative and proactive element. Unlocking a place-based imagination may be an instrumental tool for more responsible and creative urbanism.
The SO36 case study suggests an alternative research approach that focuses on the observational, the experiential, and the intuitive as the fundamental basis for knowledge creation. An initial assessment of the built environment evolved to reveal abstract and subjective, but nevertheless complimentary dimensions of space. Alternative techniques of urban exploration and mapping were deployed, using otherness as a guiding principle to comparatively dissect urban morphologies and architectural typologies. Bridging the gap between professionals and citizens, this approach selectively explores urban themes and associations that reflect physical and symbolic otherness.
The outcomes indicate a relationship between form and meaning, which is based and strongly supported by the community's distinctive personal and collective spatial imagination. Ultimately, what is revealed are conflicting social realities that exist simultaneously in symbiosis and define the neighborhood as a kaleidoscope of place.