Aspekte des städtischen Radverkehrs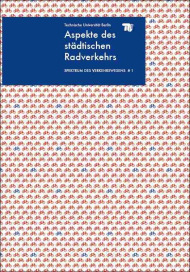 Size:
164
pages
Format:
14,8 x 21,0 cm
Publishing year:
2014
ISBN 978-3-7983-2510-4
The papers in this volume deal with various aspects of urban cycling. These papers originate from research and course work at the Technische Universität Berlin, chair Verkehrswesenseminar (Transportation Seminar). The topics of this volume range from cyclists' (transgressive) behavior and their general requirements to detailed views on bicycle rental systems, bicycle parking facilities in shopping streets and coordination of traffic signals. Furthermore, topics like cycling culture and cycling promotion in European cities and its transferability are covered in detail.