Jahresbericht 2019/2020 / Annual report 2019/2020
Editor: Heike Schumacher, Stephan Völker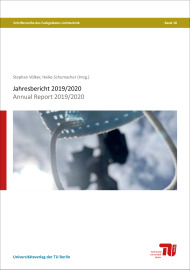 Size:
45
pages
Format:
14,8 x 21,0 cm
Publishing year:
2020
ISBN 978-3-7983-3170-9
The series of publications of the Chair of Lighting Technology began
with the Annual Report 2012. Dissertations, excellent final theses,
monographs, abstract books and research reports of the chair are also
published here.
The first annual report of the Chair of Lighting was published in 1971.
The reports inform about courses and current research projects and give
an overview of the colleagues, their publications and committee work.
Compilations of publications, dissertations and seminar papers go back
longer.