Mind the Fungi
publisher: Vera Meyer, Regine Rapp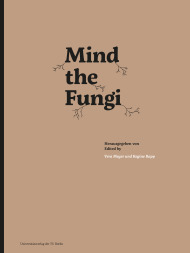 Size:
151
pages
Format:
21,0 x 28,0 cm
Publishing year:
2020
ISBN 978-3-7983-3168-6
24,90

€
Nicht mehr lieferbar
This book reports on the bundling of the creativity engines science and art and how a living triad of science, art and society can be forged from this. A creative triad, which over a period of two years has jointly committed itself to the utopia of enabling a synthesis of sustainable economy, healthy environment and a just society. The project Mind the Fungi ("Achtung Pilze") is a Citizen Science research project, which resulted from the cooperation of the Departments of Applied and Molecular Microbiology and Bioprocess Engineering of the TU Berlin and the art and research platform Art Laboratory Berlin. It was intended to provide citizens with an opportunity for scientific collaboration. On the one hand, the project was intended to give a broad public an understanding of the importance of fungal biotechnology for a sustainable future and, on the other hand, to establish a research network here at the TU Berlin, in which, among other things, novel fungus-based biomaterials were to be researched with Citizen Scientists. The scientific and artistic paths in the Mind-the-Fungi project, which we followed together with the public from 2018 to 2020, including the Art &Design Residencies, can now be traced in text and images in this book.