Wie Beratungskompetenz das Lehren einfacher macht
Lehre als kommunikatives Ereignis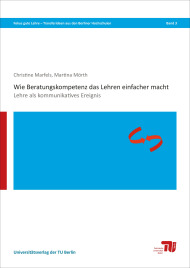 Size:
126
pages
Format:
17,0 x 24,0 cm
Publishing year:
2020
ISBN 978-3-7983-3131-0
How do teachers deal with the diverse communication requirements in and around courses? Ambivalent situations can quickly result in rising stress levels for everyone involved. Consulting expertise enables teachers to recognize potential difficulties more quickly, activate the students' personal responsibility, and overcome obstacles. Consulting skills combine reflexive, responsive, and controlling qualities that are helpful for the supportive contact with students.
The book elaborates in a practice-oriented manner how communicative clarity can be created and used in complex situations and how to create solution-oriented approaches for everyone involved. The goal is to achieve understanding of one's role as a teacher and establish professional interaction between instructors and students in general and in regards to their questions and topics.