Konzeption eines Organisations- und Kooperations-Leitsystems mit anreizbasierten Vergütungselementen zur Verbesserung der Kooperation, der Kommunikation und der Termineinhaltung in Bauprojekten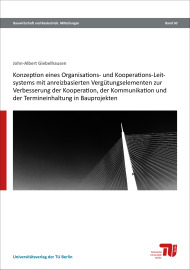 Size:
330
pages
Format:
14,8 x 21,0 cm
Publishing year:
2019
ISBN 978-3-7983-3092-4
Disturbances in the design and construction process are an unwanted but regularly encountered phenomenon. The consequences usually comprise exceedances of the initially planned and agreed time frames as well as corresponding additional costs.
So far, the prevailing problems have neither been resolved by individual contractual stipulations based on the German Civil Code, nor by the VOB/B, which is regularly attached as standard terms and conditions of a specific contract. From the perspective of the contractual parties, the so far in Germany existing processing forms and contractual models are lacking balanced, practicable and motivational approaches and consequently are unable to avoid or minimize the extension of times due to distressed construction programs and workflows.
Against this backdrop, this thesis outlines an incentive-based organizational and cooperation management system, which – with the support of a flexible rating and remuneration model – sustainably promotes cooperation, communication and adherence to construction schedules and moreover can complementary be applied to acquainted contractual models such as the VOB/B.
Therefore, the management system focuses on circumstances, which can be positively impacted by the contractor even though he may not or only partly be responsible for these, or the circumstances arise within contractor's and employer's joint cooperation sphere. Hence, this can be subsumed as an extraordinary effort for cooperation and collaboration by the contractor.
Incentive-based remuneration schemes, which function as a direct or indirect accelerator to the project and therefore contribute to the agreed timeframes, as well as the strict adherence to the schedules are key requirements for any potential bonus or penalty payments. To consider the additionally required time related efforts usually resulting from technical changes or disturbances, a provision for the fictional forward projection of the agreed schedule targets will be introduced.
In general, the control and management system is based on a modular structure. Its key elements comprise a transparent evaluation system with defined target performances, key performance areas (KPAs), key performance indicators (KPIs) as well as an associated remuneration system with corresponding bonus and penalty elements. In order to set the contractor's focus on the minimization of any potential time extensions and their corresponding additional costs, the introduced remuneration system will be linked to the parties' legal entitlements resulting from a disturbed construction program.
Hence, the herewith provided frameworks entails a thoughtful management system, which promotes an efficient and timely collaboration within construction projects.