Ethik und Verantwortungsfähigkeit
Gesammelte Aufsätze und Auszüge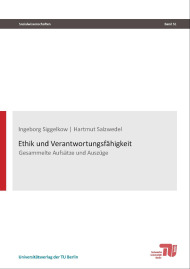 Size:
100
pages
Format:
14,8 x 21,0 cm
Publishing year:
2015
ISBN 978-3-7983-2756-6
An important question in the analysis of social reality and its structure is how ethics enters the awareness and actions of humans. The examination of the reasons, possibilities and aims of responsible behaviour is a permanent task for science in the quest for enlightenment.
The authors Siggelkow and Salzwedel have been writing about this topic for more than a quarter of a century in works concerning vengeance, honour and dignity, symbols and values, determinism and coincidence, the public space, technical maintenance and responsibility.
Salzwedel and Siggelkow recommend a return to the search for categories in the sense of basic units described as TIME, SPACE, SYMBOL and (social) NORM as a system of classification which transcends the borders of traditional subject disciplines. The social reality resulting from this analysis invites both a didactical approach and further research.