Achieving Value for Money in PPP Projects in Syria
Case study from the transport sector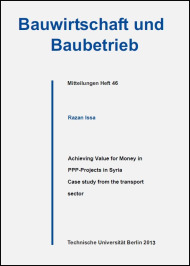 Size:
181
pages
Publishing year:
2013
ISBN 978-3-7983-2599-9
Syria suffers from a high population growth rate and a strong internal immigration from rural areas to urban areas, which has increased the demand on the infrastructure and services provided by the government. Taking into consideration the lack of resources and budget restrictions, the government started seeking the participation of the private sector for the provision of infrastructure and services. It also started enhancing the investment environment, implementing economic reform and pursued a number of projects using Public Private Partnership (PPP) procurement route, however the projects were not entirely successful.
The PPP situation in Syria has been investigated through interviews with people responsible for the PPP program such as the consultants, directors of PPP projects, PPP central and ministerial units. It is clear that they are trying to facilitate the process and develop it. In addition, they are focusing on removing the obstacles such as capacity building, the culture of the general public and public sector, the absence of legal and institutional frameworks, risk and value for money assessment, etc. These problems have caused dispute and failure in achieving the required service level in the two existing PPP projects in Latakia and Tartous Ports.
In order to provide solutions to existing problems and promote successful PPP projects, the author has undertaken two necessary steps: First; suggestions for the relationships, roles, and responsibilities for PPP units have been made to enhance the institutional framework. Second; a model for the PPP process also has been established to ensure value for money from the projects through transparent procedures and assessments (which is attractive to the private sector). Before applying the model to a case study from the transport sector, a survey was conducted to evaluate risks and their allocation. This survey was important since it is entirely new concept for Syrians and there is little experience. The results were consistent with the Syrian reality. It indicated that the high ranking risks are related to legal, institutional, organizational risk categories while the highest ranking risk, was the delay in completion, which happens in all projects. Risk allocation was reasonable and consistent with the international behavior which indicates that the respondents were able to deal with risks concept although it is a new one.
The model was applied to a case study from the transport sector, being a Tram option for the Green line in Damascus and comparing it with one other option that was chosen by the government: the Metro. The results showed that because of the absence of organized process, the government chose the wrong option, one that is not suitable for PPP procurement route, while the other option offered value for money, and was better suited to this procurement type. As a result the case study showed that using a systematic organized method to choose and pursue the right PPP projects could save time and money and prevent project failure.