Massive Volume – Neue Räume für Clubkultur
publisher: Jacob van Rijs, Raoul Bunschoten, Lukas Drevenstedt, Daniel Hülseweg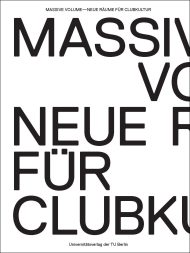 Size:
155
pages
Format:
16,5 x 22,0 cm
Publishing year:
2022
ISBN 978-3-7983-3198-3
The music scene in Berlin is closely linked to the built environment of this formerly divided city. The challenges of increasing densification – a burgeoning property market leading to speculation and development, strict local planning requirements, and conflicts with residents – are immense challenges for a culture that primarily thrives in residual urban spaces. How can it be ensured that urban niches for club culture are also taken into account in future construction and renovation projects? Which hybrid forms of use can be developed and what architectural answers can be found in order to integrate new clubbing locations into the socio-political structure of a neighborhood? What options are available to architects to influence the dynamic between space and music in a way that enables them to form a personality or an identity?
This publication investigates how club culture has manifested itself in Berlin and how it will be able to potentially do so in the future in terms of urban planning and architecture. In addition to a historical overview of club migration in the city, an urban analysis defines spatial prototypes that allow for new areas in the city to become attractive to the music scene. Future topics and scenarios for socio-sustainable building design are investigated through architectural proposals from Bachelor and Master students of the TU Berlin.