Die Entwicklung der Architektur von Flugzeughallen in Deutschland 1903–2007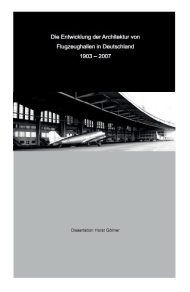 Size:
306
pages
Format:
29,7 x 21,0 cm
ISBN 978-3-7983-2446-6
This thesis analyses the historic development of hangars in Germany from the beginning of air transport with powered aircraft until present. The key features of the architecture of hangars are shown through numerous examples which are chronologically divided into six phases. The aim of this thesis is the examination and representation of the general construction and stylistic typologies of hangars since early 20th Century in Germany. The various factors that have impacted the architecture of the hangars over the decades are examined. The thesis gives an overview on the history and the current state of hangar buildings. The selected study period begins with the first controlled powered flight and simple carport halls in 1903 and ends with today's largest and modern hangar for the Airbus A380 wide-body aircraft in Germany in 2007.